It's a long (long) time since I've posted here- six years in fact, never realized it was quite that long!
Anyway, this was my first and to date, only thread on here
http://www.morini-riders-club.com/forum/viewtopic.php?f=2&t=2288
And here is a picture of it taken on that fateful last ride, a matter of a few minutes before it got poorly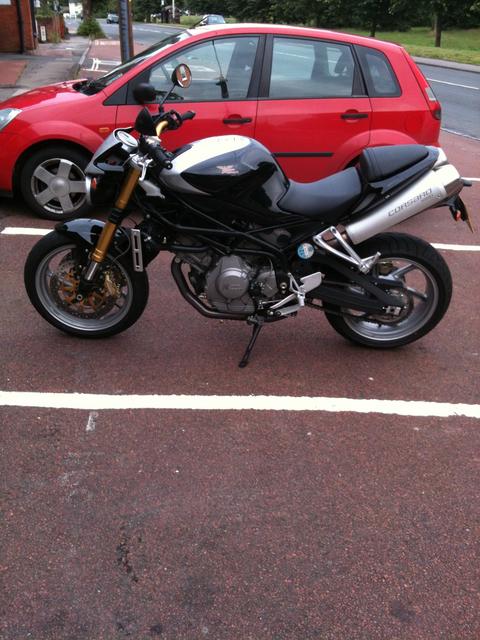 To cut a long story short, nothing has really moved on since the end of that thread, except it was moved off the bench to make way for one of my other bikes and has been lurking under blankets in a corner of the (warm and dry) garage- likewise both engines have sat under covers on one of my benches since then- the reason being that when checking through all the new gaskets etc that I'd bought, it became apparent that I have one head gasket missing- I tried to get another one through the Italian source I had without any luck at the time, then normal life sort of took over and other bikes have come, and some gone, and the poor old girl has slipped further and further down my lists of projects.
When I took the engine out, all the fasteners etc were bagged up and have been stored in a box with the bike , so it's all there, along with all the gaskets (except for 1 head gasket) etc you'd need to transplant the heads, cases etc etc from my engine onto the replacement "short engine" I obtained, all it needs it that one gasket and someone with the time, expertise and enthusiasm to nail it all back together and it'll be a nice bike again.
To recap, it's a 2006 Black and Silver, approx 5k miles total, both original keys, owners manual, service book, V5 in my name, and will come with the additional later Veloce ECU I also bought at the same time as the engine.
If you fancy it, make me an offer, I've resigned myself to the fact that realistically I'm not going to get around to it for years to come so it may as well go, and I would love it to go to someone who will make it live again, rather than just break it and sell it, its far too good for that IMO .
And of course happy to chat about it (PM me for my mobile), take and send some more photos if you're serious , and you're of course welcome to come and inspect if you like, just let me know- located on the outskirts of Reading, on Berks/Hants border, 5 mins from M4 J11
Cheers
Rich