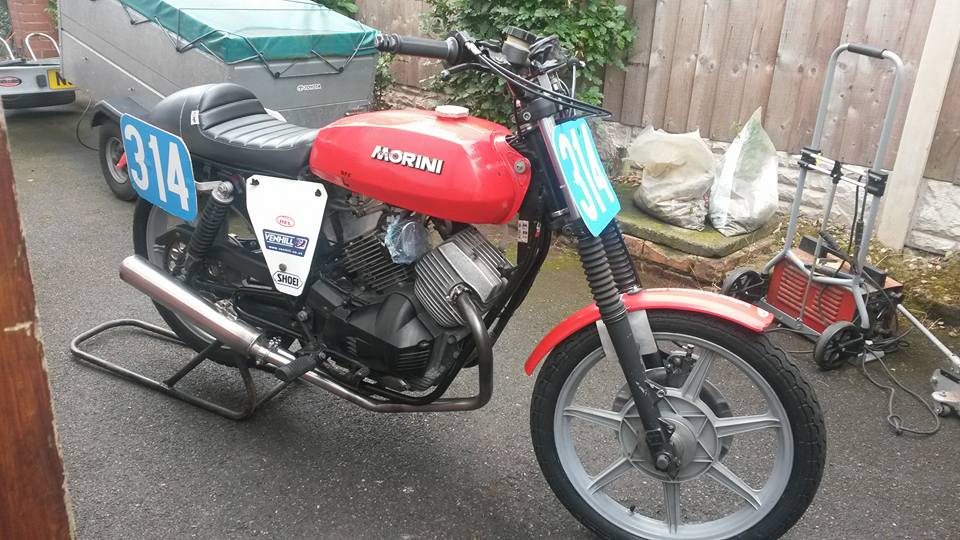 Finally ready again for Loton Park tomorrow.
The sporty seat gives it a pleasing flat track racer look and gives a very nice riding position. Now lubricated by Motul 15w-50 semi-synthetic. Next option will be a full synth 10w-60. I've persuaded myself it sounds a bit less mechanically noisy but I'm not totally convinced. No signs of nasty metal bits in the filter when I drained the running in Halfords 10w-40 semi-synthetic though.
I managed to silver the solder the silencer/pipes junction to give good gas tightness. I then found that Autosul 'bluing remover' pretty much does what it says on the tin (well bottle).
I've got the carbs reasonably balanced on the Morgan manometer by tweaking the adjusters on the Tomaselli QA throttle but it is behaving slightly oddly. Inclined to suddenly die if I try and get the idle speed well below 2000. I'm wondering if the upgraded ignition is not sparking well at low rpm, but then it kickstarts easily. Perhaps still a bit of an air leak somewhere but no sign of popping on the overrun (not on load though). The stator winding could do with being a bit higher resistance and the rotor stood in a Spanish barn for years so may really need re-magnetising. I'm taking the standard transducers along just in case I have to swap back. Picks up well on a snapped throttle once warmed up though. The proof of the pudding and the front tyre will be first practice tomorrow.