Anyone who has followed the saga of my 500 Morini re-commissioning will remember that I had to have the starter clutch shoes relined, I sent them away via NLM a few weeks ago. To re-cap, the original linings appeared to be well worn, and they had also crumbled away for about a third to half their length from the trailing edge of each shoe. Relining cost £38 +VAT, not at all cheap, but I felt I had no choice. I did try a few other relining companies which I found via the web, but none were cheaper and I decided to go with NLM's contact, who has at least done them before. I got them back last week and fitted them yesterday.
I now found that the relined shoes wouldn't enter the clutch drum on the flywheel. I ended up removing the flywheel from the bike (again!) and test-fitting the shoes like this: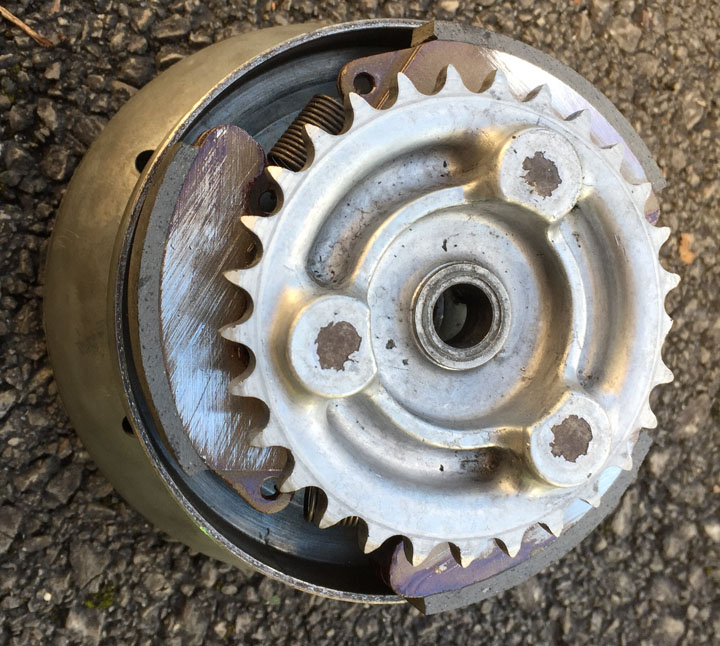 This was tricky to photograph, but hopefully you can see that the trailing edge of each lining is well clear and would enter the drum with almost 1mm clearance. The leading edge however is overlapping the edge of the drum by more than 1mm. After some study, I concluded that this was for two reasons. First, the lining is just too thick and needs to be thinned and re-profiled. Second, there is a small piece of resilient material stuck on the inside of the "elbow" of each shoe, presumably to stop the shoes rattling (?) - this was too thick and wasn't allowing the shoes to retract fully.
Once I was sure, I thinned the resilient buffer with a half-round file, which gained me almost 1mm. I then used a triangular sander to thin the lining by about 1.5mm at the leading edge, reducing to zero about one third of the way back from the trailing edge. I did my best to achieve a smooth curve (as judged by eye!) and the linings now entered the drum with about 0.5mm clearance. I was a bit concerned that the shoes may not be so well centred when mounted in the r/h engine cover, and it was certainly fiddly to re-fit, but once on, it seems to be OK and the clutch doesn't seem to be dragging. The very good news is that the rebuilt starter spins the engine with a lot more gusto than the one on my 350 - so I'm hoping this was all worth the effort!
I'm hoping to start the engine for the first time today, fingers crossed!