Hi there,
Earlier in the year, I had all the painted parts of my 500 Morini project professionally re-painted. I wish I hadn't because it took months and months, however when I eventually got the parts back I was pleased, he had done a superb job. A couple of weeks later, the paint started to bubble around the filler cap on the tank. The cap seal wasn't leaking and anyway, I think the paint on a tank should be impervious to petrol. I took it back and the guy was horrified, I actually felt quite sorry for him. I'll try to cut a long story short, but the tank has now been with the paint manufacturer for a month and seems to be caught up as an exhibit in a wider dispute. I've done no end of moaning etc, but there is no sign of it coming back any time soon. Needless to say, nobody wants to pick up responsibility for it.
Now to the appeal. Has anyone a sound 500 tank, any colour and any condition, so long as it doesn't leak, which I could buy or borrow to get me back on the road in the short term? My tank looks like this: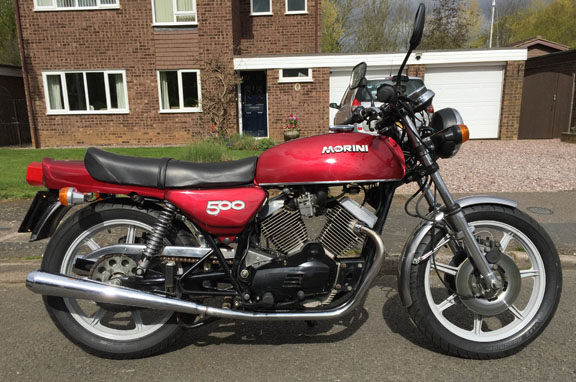 I don't know if different tanks were fitted to different years, this is a 1978 model, and I can't even measure it because it's away in some paint factory! I can take measurements on the bike if that helps. The tank on the 3½ Strada models looks very similar (not identical) and may well fit, but of course I'm not sure. Those do pop up on ebay from time to time, in fact there's one on there now, but at around £220 it's more than I wanted to pay, especially if I'm not sure it'll fit!
Regards,
Joe.